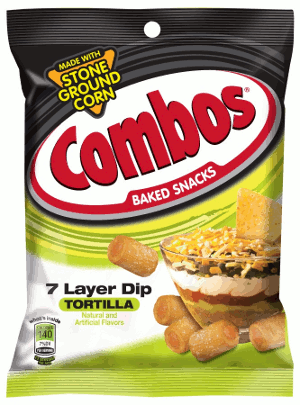 At the NACS 2012 show this week in Las Vegas, Mars North America introduced a new snack made with cheese and sour cream. Its ice cream division unveiled three flavors of Dove ice cream packaged in pints.
The Combos Baked Snacks 7 Layer Dip Tortilla is made with real Cheddar cheese, sour cream, avocado, tomato, refried beans, onion and spicy jalapeño peppers. Seven-layer dip has been a long-time party food favorite.
Combos Brand is driving growth in the Salty Snack category, Mars said.
New Combos Snacks 7 Layer Dip Tortilla complements the brand's other flavor offerings and builds on the successful 2011 launch of Combos Snacks Buffalo Blue Cheese Pretzel
The snack food will be available April 2013 in convenience stores, drug, grocery, mass, specialty and value stores, as well as vending machines. The suggested retail price is $0.89 for a 1.5-ounce Singles package and $2.49 for a 6.3-ounce bag.
Mars Ice Cream introduced three new flavors that will be available in pint packages in December. They are:
Dove Unconditional Chocolate ice cream made with chocolate ice cream, chunks of Dove dark chocolate, and a chocolatey swirl.
Dove Mint Chocolate Chunk ice cream.
Dove Vanilla Ice Cream with Chocolate Chunks made with chunks of Dove milk chocolate.