Packaging Technologies-Dairy Processors
Operations
Case Studies
End-of-line solutions
Arcil's Synerlink selects Adept Quattro robots
The Quattro robot's end-of-arm tooling used to handle the yogurt cups is a proprietary gripping technology that conforms to the shape of the product to provide a strong vacuum path.
Submitted by Adept Technology, Pleasanton, Calif.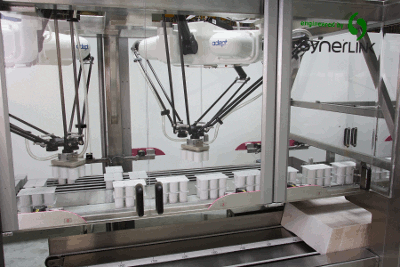 Synerlink, the integrator of the packaging machine manufacturer Arcil, offers end-of-line robotic solutions under the Aprium-Technology brand that feature Adept Quattro robots from Adept Technology. Used to gently stack cups of yogurts and other food products at very high speeds prior to multipacking or case packing, the flexible Quattro robots are easy to deploy and easy to maintain.
"Before we selected Adept's Quattro robot, we considered other technology," said Charles-Antoine Freiher, Business Unit Manager of the ApriumTechnology brand. "Compared to pneumatic stacking systems, robots have more flexibility to handle a wide variety of product sizes and stacking configurations with very little downtime for changeovers. We choose Quattro because of its payload, speed and connectivity. The fact that Adept's programming language is open and OMAC-compatible makes it very easy to integrate and maintain Quattro."

Aprium-Technology has installed 20 Quattro robots in 8 plants over the past two years, mainly in Europe and North America. Most were new production lines producing dairy products packed in cups that range in size from 30 gram to 1 kilogram (1 ounce to 2.2 pounds). The robots, typically configured two or four per line to achieve the necessary throughput, are stacking the cups for multipacks and case packing. The multipacks range in size from 2- to 24-count and the cases range from 16- to 48-count.

"Changeovers are achieved on Quattro within the program," noted Freiher. "The settings for each product and stacking configuration are saved in the robot's memory so operators can quickly recall the correct settings during changeovers. Some changes are achieved fully automatically with no mechanical adjustments or change parts required. Other changes require the tool on the end of the robot's arm to be changed, which can be accomplished in less than two minutes."

The Quattro robot's end-of-arm tooling used to handle the yogurt cups is Adept's proprietary SoftPIC™ gripping technology. These SoftPIC grippers are made of soft silicone that conforms to the shape of the product to provide a strong vacuum path, which enables the robots to handle the products gently and reliably at very high speeds.

"Through our engineering department, Synerlink, we sell complete lines to Danone and to other food processors around the world. It is very important that we provide systems that are very reliable and easy to learn to use so operators can maximize each machine's potential," explained Freiher. "One measure of success is uptime – not just the efficiency level of any one machine itself, but in tandem with other equipment on the full production line. The zones that include Quattro are operating at 98% efficiency. The Quattro robot's ability to speed changeovers, ease sanitation, reduce maintenance and simplify operation is all a part of that high efficiency."