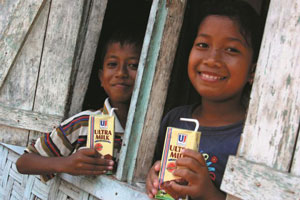 To reach more prosperous consumers in the developing world, dairy processors must produce safe packaged dairy products without adding unsustainable costs.
Milk consumption by low-income consumers in developing markets is forecast to increase 10 billion liters by 2014. As their wages increase, so will their spending on dairy beverages and other foods.
Milk consumption by low-income consumers in developing markets is forecast to increase 14% over a 3-year period to almost 80 billion liters in 2014 from about 70 billion liters in 2011, according to the Dairy Index, which tracks worldwide facts, figures and trends in the global dairy industry. Many of these consumers are expected to switch in coming years from drinking loose milk (unpackaged) to packaged milk. The analysis and conclusion were announced by Tetra Pak President and CEO Dennis Jönsson. Tetra Pak is a manufacturer of dairy processing equipment and packaging.
The company's research identified 2.7 billion low-income consumers in developing countries as the dairy industry's next big growth opportunity. That is because of an expected rise in prosperity, purchasing power and desire for packaged liquid dairy products (LDP). Low-income consumers make up almost 40% of the world's population and live in economies driving the dairy industry's growth, Jönsson said. "And they are growing more affluent. The key to tomorrow's success is reaching these consumers today," he added.
These consumers, which Tetra Pak calls "deeper in the pyramid (DiP) consumers," live on $2 to $8 a day and are virtually untapped by dairy processors. They make up about 50% of developing countries' population and consume 38% of liquid dairy products in their countries. Half live in India and China. Six countries account for more than 76% of LDP consumption by DiP consumers in developing countries: India, China, Indonesia, Brazil, Pakistan and Kenya.
As these consumers grow in affluence and enter the middle class, they will boost their purchasing power and the range of products they buy. This increase in spending power along with greater awareness of food safety and a need for convenient, ready-to-drink solutions is expected to increase the demand for packaged products, Tetra Pak said.
Incomes  are forecast to grow
The global DiP population is forecast to fall by a compound annual growth rate (CAGR) of 3% a year from 2009 to 2020. The population living on more than $8 a day is set to rise by 4% CAGR annually, according to Boston Consulting Group, which helped Tetra Pak to develop the DiP classification.
"Today's low-income consumers are tomorrow's middle class," said Jönsson. "This is a golden opportunity for dairy processors to cultivate consumer loyalty among a new generation of dairy consumers in developing countries."
Tetra Pak identified three key challenges for dairy processors seeking to reach consumers in this growth market. They need to make products which are affordable, available and attractive to consumers on limited incomes. That means dairy processors must produce healthy, safe and nutritious packaged dairy products without adding unsustainable costs. They must also make them available in small traditional stores in remote rural areas or congested cities where DiP consumers shop.
Innovation and efficiency will be vital in helping the industry to develop products, packaging and processing to meet the needs of these low-income consumers, according to the report.
"We must develop products differently, distribute them differently and sell them differently to extend the availability of good nutrition in developing countries," said Jönsson.
Tetra Pak has identified a number of ways to make products more affordable. Among them is changing the way both milk products and packages are developed — with the price of the product driving development. By using alternatives to whole milk — such as whey or lactic acid — it is also possible to produce nutritious and healthy dairy products at lower cost. Another way is to reduce package sizes or opt for more basic packaging.
Figuring out ways to make packaged dairy products widely available to DiP consumers is another challenge. Around 70% of DiP purchases are in the so-called traditional trade: small-family run shops rather than modern supermarkets or convenience stores. Companies are coming up with innovative ways to reach these consumers. They are producing locally where demand for packaged liquid dairy is growing. They are teaming up with distributors who have a track-record of working closely with traditional stores and they are using appropriate transport, like bicycles, to distribute products.
Making products attractive to DiP consumers, who focus on providing the best for their children and often reduce other expenses before compromising on basic nutritional food such as milk, is the final challenge. Companies need to generate significant sales to achieve the economies of scale required to provide value for money and quality nutrition to DiP consumers, according to Tetra Pak. They also need to create brand awareness and excitement around products for kids who buy dairy drinks and snacks with pocket money.
LDP growth to speed up
Separately, Tetra Pak announced that LDP demand is set to accelerate in 2011-2014, led by Asia, Africa and Latin America. Global LDP consumption is forecast to rise by a CAGR of 2.9% in 2011 to 2014, accelerating from 2.5% in 2008 to 2011, led by buoyant demand in emerging markets, according to the Tetra Pak research.
Lactic acid drinks (LAD) , baby and toddler milk, and flavored milk are forecast to record the fastest growth rates in 2011-2014, Tetra Pak analysis shows. LAD, which tend to be affordable beverages and a favorite among Asia's DiP consumers, are expected to notch the fastest growth rate with a CAGR of 11.9%, followed by baby and toddler milk with a CAGR of 9.0%. Flavored milk, another affordable favorite among DiP consumers, is in third place and is expected to record a CAGR of 4.8%.