IFT 2014 Booth Previews
Advanced Instruments, Inc.
The LactoScope™ FTIR Advanced provides accurate analysis of Fat, Protein, Carbohydrates, Solids, Solids non-Fat, pH, Free Fatty Acids, Citric Acids, NPN/Calculated Urea, Casein, Density, Freezing Point Depression, NPN, and True Protein.
The LactoScope's easy operation and quick set-up gives the Quality Manager a perfect tool for milk and cream standardization, and the analysis of more complex dairy products such as yoghurts, cheese milk and ice cream.
Features and Benefits:
Full FTIR capability
Full calibration transferability
Unlimited product file capability
Heavy Cream analysis up to 55% fat
Low cost of ownership
Advanced Instruments, Inc.
(781) 320.9000
Booth: 3342
---
Allied Blending
For more than 30 years, ABI has provided world-class products and services to the dairy marketplace.
Our Anti-caking systems optimize the appearance and performance of your shred products while delivering less dust and lower visibility for higher application rates and better yields. We can also provide antimycotic and oxygen scavenging options that can ensure the highest levels of safety and freshness. Our newest brand of anti-cake, Flow Lite®, minimizes browning in all pizza and other baked cheese applications better than any other anti-caking system on the market today.
The casein-free technology of Cheese-Mor® lowers the production costs of blended cheese products, including pizza toppings, IWS, vegan and other combination products. Our convenient, all-in-one blends are perfectly compatible with your processing equipment and stabilize your ingredient pricing and batch-to-batch consistency like never before.
Allied Blending & Ingedients Inc
800-7585-4080
Booth: 4113
---
Amelia Bay
Amelia Bay is the industry leader in the extraction and formulation of brewed quality liquid tea and coffee extracts. Our extraction technology isolates and captures fresh brewed flavors that yield a truly brewed, great tasting finished product. We are the only 100% vertically integrated extraction and formulation company in North America, and are proud to manufacture all of our products in the USA. All products are brewed and customized to each client's specific marketing objectives.
Amelia Bay Inc.
3851 Lakefield Dr.
John's Creek, GA 30024
770-772-6360
Booth: 1943
---
Best Sanitizers, Inc.
Since 1995, Best Sanitizers, Inc. has been providing the Food Processing industry with the highest quality hand soaps, hand sanitizers, surface sanitizers and dispensing options available. These products are used in over 8,000 U.S. food processing facilities. Best Sanitizers was the first company to achieve an E3 rating for an alcohol-based hand sanitizer, the first to achieve a D2 rating for an alcohol/quat-based surface sanitizer, and continues to explore new and innovative ways to deliver hand hygiene and surface sanitation solutions.
Best Sanitizers, Inc.
Penn Valley, CA
888-225-3267
Booth: 2148
---
Brookfield Engineering Laboratories, Inc.
80th Anniversary! Brookfield Engineering Inc. (www.brookfieldengineering.com) features new RST Series that offers the quickest and most comprehensive capability for making rheological measurements, whether it's single point viscosity for QC or complete flow curve analysis for R&D. The RST operates in both controlled stress/controlled rate. The CT3™ Texture Analyzer features compression/tension testing for rapid QC analysis has a wide variety of fixtures and probes. The DV2T viscometer offers programming capabilities and results analysis, including data averaging and quality control limits with alarms. The DV3T rheometer measures values of yield stress, viscosity, and temperature. Stop by for a demo or to speak with our technical experts!
Brookfield Engineering Laboratories, Inc.
508-946-6200 / 800-628-8139
Booth: 5440
---
CP Kelco U.S., Inc.
CP Kelco is the perfect partner for beverage product development. Our world class application knowledge and extensive ingredient portfolio make it possible to produce drinks that are rich and decadent or light and refreshing. Please stop by Univar's IFT booth to try a calcium fortified, high protein coffee drink. KELCOGEL® HM-B gellan gum provides suspension of calcium without adding excessive mouthfeel. GENUVISCO® J-DS carrageenan minimizes fat separation over shelf life. Whether it is coffee, juice, milk or smoothies, CP Kelco offers stabilizers and texturizers to suit the needs of beverage manufacturers.
CP Kelco U.S., Inc.
678-247-7413 / 800-535-2687
Booth: 519, Univar Food Ingredients
---
Dairy Farmers of America
As a vertically integrated dairy cooperative, Dairy Farmers of America is one of the country's most diversified manufacturers of dairy products, food components and ingredients, and is a leader in formulating and packaging shelf-stable dairy products.
The Cooperative's contract manufacturing division works closely with some of the nation's most recognizable brands to develop, test and produce a broad range of products. Plants utilize state-of-the-art retort technology to make shelf-stable consumer goods with up to 18 months of shelf-life. Examples include coffee-based dairy beverages; nutritional, energy, weight loss and protein drinks; infant formulas and coconut water.
Flexible manufacturing capabilities allow for producing shelf-stable products in packaging such as steel, aluminum and glass. Packaging capabilities span 4-, 6, 12- or 24-packs to meet diverse customer specifications.
For more information about DFA and its contract manufacturing capabilities, visit www.dfamilk.com or call 417-829-2510
Dairy Farmers of America
800 W. Tampa St.
Springfield, MO 65802
Booth: 2501
---
David Michael & Co
Innovation starts here, at David Michael's booth 2625. Stop by and experience what's new in the world of flavor trends. Focusing on our core strengths, we are serving up some delicious treats and classic favorites! Visitors to booth 2625 can also register for a chance to win a free trip to the David Michael 2015 Innovation Roadshow® in Philadelphia. Each year, the Innovation Roadshow highlights our best ideas - in technical creativity, new flavor development, and cost-saving technology. We'll help you to track new and emerging trends from around the world, spark your creativity, and show you how to bring products to market faster and smarter.
David Michael & Co
215-632-3100
Booth: 2625
---
DD Williamson
DDW "The Color House"
Come visit The Color House in booth #5041. DDW's wide array of coloring solutions helps sell 2 billion servings of foods and beverages every day. DDW operates 9 manufacturing sites on 5 continents for customers in 100 countries. DDW will feature the visually appealing applications of colorful dairy products including miniature process cheese dinosaurs, process cheese melted on a Panini, a drink yogurt drink with naturally-derived purple coloring, and fruit preparations in varying shades of yellow, orange and red.
Additionally, DDW will demonstrate applications using recent coloring innovations such as oil dispersible technology to color liquid and solid fats, economical, spray-dried WS annatto powder, and certified organic annatto extracts.
Megan Jacobs, Market Specialist
DDW Color
100 S. Spring St.
Louisville, KY 40206
Booth: 5041
---
GEA Niro Soavi North America
GEA Niro Soavi is the global technology and market leader for high pressure pumps and homogenizers. Established in 1947 and part of the GEA Group – one of the leading engineering companies worldwide –GEA Niro Soavi maintains its leadership position through product innovation, reliability and a local presence in order to satisfy customer expectations. Our international sales and service network allows GEA Niro Soavi to be close to customers regardless of where they are, with local, competent and professional support.

Products
The GEA Niro Soavi homogenizer product line provides leading technology with the widest range of machines that cover all possible application needs for the food and dairy industries. From laboratory to large-scale fully automated units, in sanitary or SIP execution, our homogenizers are also in compliance with all FDA 3-A standards and guidelines.
GEA Niro Soavi North America
603-606-4060
Booth: 3119
---
GEA Process Engineering
Process Solutions in the Dairy Ingredient Market Steady global demand continues to encourage investment in the U.S dairy market for value-added dairy ingredients, especially enhanced protein products and lactose. GEA Process Engineering offers a comprehensive line of complete process solutions to the dairy ingredient manufacturing sector. Process solutions are modularly designed for rapid project execution, yet highly customizable to address specific and unique market and product requirements. Solutions include the full range of in-plant process operations for heat transfer, cross-flow membrane filtration, evaporation, drying, conveying and packaging, and plant sanitation.
Visit GEA Process Engineering at booth #842 for further information.
GEA Process Engineering
1600 O' Keefe Road
Hudson, WI, 54016
715-386-9371
Booth: 3119
---
GOLD COAST INGREDIENTS, INC.
Gold Coast Ingredients, Inc. is a full service custom flavor and color manufacturer. We pride ourselves on great customer service, short lead times, low minimums, and the ability to custom formulate based on our customers specific needs. Our flavors are available in liquid, powder, and spray dried form with an extensive library of organic, natural, n&a, and artificial flavors. Taste us on the web at www.goldcoastinc.com.
Gold Coast Ingredients, Inc.
Commerce, California
800-352-8673
www.goldcoastinc.com
Booth: 835
---
Ingredia, Inc.
Looking for truly differentiating premium proteins? highly functional ingredients for indulgent, protein enhanced products? or simply high quality proteins for enhanced formulations and cost efficiency?... Ingredia can help! Stop by booth #2923 and sample some products featuring Ingredia's newest solutions.
The company will have a strong presence at the coming IFT Annual meeting, sharing its latest unique proteins and functional solutions dedicated to cultured dairy products, chocolate applications and more. Attendees will discover the whole potential of Ingredia's portfolio – from texture enhancement to cost savings through nutritional profile improvement and more - all specifically designed to address the food industry's current challenges.
Ingredia, Inc.
419-738-4060
Booth: 2923
---
Ingredion Incorporated
Visit the Ingredion booth #3641 at this year's IFT Food Expo in New Orleans, LA June 22-24 to learn through prototypes and demonstrations how the company's innovative ingredient solutions and unmatched capabilities help food formulators and manufacturers address some of the most important issues and trends facing the industry.
Cost optimization
Sugar and fat reduction
Nutritional enhancement
Non-GMO and clean label
Global food trends
Ingredion Incorporated
Phone: 866-961-6285
Address: 5 Westbrook Corporate Center Westchester, IL 60154
Booth #3641
---
ADM/Matsutani LLC
Fibersol® will offer many great tasting prototypes during the 2014 IFT Tradeshow.
A chocolate milk beverage featuring Fibersol-2 will be available for sampling. This dairy drink showcases Fibersol®-2, which has been added to a reduced-sugar nonfat chocolate milk to provide an excellent source of fiber, in addition to an excellent source of protein from the milk.
Other prototypes will include Cajun-flavored whole wheat crackers, cocktail inspired popsicles and other new ideas in food, beverage and dairy innovation.
Stop by the ADM/Matsutani IFT booth #3229 and find out how the full line of Fibersol's premier soluble dietary fiber ingredients can help dairy manufacturers improve the nutritional profile and increase the fiber content of any food or beverage application without compromising taste, quality and enjoyment for the consumer.
ADM/Matsutani LLC
217-451-4377
Booth: 3229
---
Neogen Corporation
Neogen's comprehensive line of rapid food safety products now includes NeoFilm™, a line of simple microbial tests that requires only the inoculation of a fabric sample pad and an incubation. Following incubation, the sample pad is evaluated for bacterial colony growth. NeoFilm tests are available for coliforms, E. coli, yeast and mold, Staphylococcus aureus, and aerobic bacteria, and provide easy enumeration, and greater visual clarity than similar tests. The new test films are color-coded for easy identification, and required incubation time are printed right on the test. The advanced design of NeoFilm also simplifies the technician's workflow by allowing test films to be stacked as they are inoculated, freeing up valuable bench space, and eliminating any wait time for incubation.
Neogen Corporation
620 Lesher Place
Lansing, MI 48912
800-234-5333
Booth: 1502
---
PROVA Inc.
Prova, the experts in sweet brown flavoring, are market leaders in extractions of vanilla and vanilla flavors. Our outstanding products include natural extracts, natural and artificial flavors and organic vanilla extracts in both liquid and powder form. Cocoa and coffee flavors and extracts (including organic and Fair Trade) are also available. In addition we offer a line of gourmet flavors that includes caramel, pastry and non allergenic nuts. Visit with us in Booth #1837 to learn more.
PROVA Inc.
877-PROVA US
Booth: 1837
---
rtech laboratories
At rtech, we support ingredient companies, food manufacturers and the foodservice industry with comprehensive analytical testing, sensory evaluation, pilot plant and information research services that enhance the success of their products. Our Analytical laboratory is ISO 17025 accredited, and our staff has over 25 years of experience in bringing customers objective data on the qualitative and quantitative aspects of their offerings.
As part of Land O'Lakes, we have unmatched knowledge of the dairy industry as well as meat, packaged goods, snacks, bakery products and more. Clients trust us for our technical expertise, utmost confidentiality and meticulous attention to detail. Draw on our resources and expert scientists and technicians to achieve superior quality, protect your brand and make your products and processes better, safer and smarter.
rtech laboratories
4001 Lexington Avenue North, Arden Hills, MN 55112
Phone: (800) 328-9687, Fax: (651) 375-2002
Alecia Dotterweich
Booth: 927
---
S&D Coffee & Tea Extracts & Ingredients
As one of the largest coffee and tea suppliers in the foodservices industry, S&D Coffee & Tea Extracts and Ingredients has developed seamless vertical integration from origin to end-product, giving us unrivaled access to the largest variety of raw materials. Extracting our products using cold or hot brew methods allows us to create the best product to meet your specific needs. Visit us at Booth 2910 to learn more!
S&D Coffee & Tea Extracts & Ingredients
800-933-2210
Booth: 1522
---
TIC Gums
Find solutions to your texture and stability challenges at the Gum Guru® Bar, in booth 4641, during the 2014 IFT Annual Meeting & Food Expo. Learn more about innovative hydrocolloid systems from TIC Gums, developed for the latest industry trends, including protein beverages and gluten-free bakery products.
Our Gum Gurus® have worked on an array of applications, creating technology to help you manufacture high-oil load emulsions and increase production efficiencies when creating sauces and dressings. Speak with a Gum Guru® about these solutions as well as experience our latest work on dairy products in booth 4641.
TIC Gums
800-899-3953
Booth: 4641
---
U. S. Highbush Blueberry Council
Visitors to USHBC Booth will see and taste why blueberries are this year's "new-berries." New blueberry products are at all time highs, blueberry production and popularity thrive. Sample blueberry-studded treats that highlight the fruit's versatility, its craveable appeal and delicious possibilities. The healthy goodness of easy-to-formulate cultivated blueberries meets industry needs with formats available year-round: from fresh, frozen, and dehydrated to liquid, canned, and preserved. Blueberries' fruity, burst-in-the mouth flavor sparks innovative product development in energy bars, sports beverages, breakfast cereals, sauces, dairy delights and even foods for the family pet. Consumers identify blueberries as a healthy ingredient and one of the first-named superfoods. Check out the USHBC Health Research Library and Database: http://www.blueberrytech.org/research/research-database.htm More on nature's Little Blue Dynamos® lush taste, broad appeal and clean labels: http://www.blueberrytech.org
U. S. Highbush Blueberry Council
2390 East Bidwell, Suite 300
Folsom CA 95630, United States
650-340-8563, 650-340-8568
Booth: 4549
---
Weber Scientific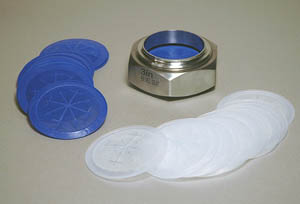 Weber Scientific distributes food safety test kits throughout North America and is focused on the specialized testing needs of the food and dairy industry. We promote quality control by making the acquisition of testing supplies as easy and affordable as possible.
Many products will be on display in booth 1311 including:
Milk pipeline filters
Allergen lateral flow test kit for milk
RCS Microbial air sampling featuring HYCON media strips
Sartorius-Biohit electronic pipettors and tips – volumes up to 10 mL
Extensive selection of hygiene monitoring tests – ATP and protein or glucose residue
Listeria and Salmonella rapid tests
Weber Scientific
800-328-8378
Booth: 1311